Videos: Wall upholstery
The videos wall upholstery will help you understand the type of installation made by VETHOMAN. The company has installed high-end wall upholstery for several decades.
Moreover, fabric is applied to the wall in a slightly different way from other system. While some use commercial track system, VETHOMAN has one of a kind residential CES track.
CES stands for Clean Edge System. A track offering all necessary features to work in a homes.
For reviewing them, please go to Upholstered wall services. You will see what a track like this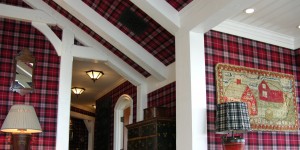 one can do in a space. Then, visit the portfolio page to see images of rooms upholstered in colorful fabric.
The quality of these fabric installation is remarkable. Contact us without delay and tell us about your ideas or coming project.
If you have never had wall upholstery installed before, remember to ask the right questions. There is an article wrote on our blog; how to choose a wall upholsterer? Whether you select our company or not, read the blog. It will definitely guide you through the process of inquiries.