UPHOLSTERED WALLS IN A RESTAURANT
A room decorated with upholstered walls in fabric has much influence on people. And discovering new places can sparkle ideas for a house like a damask fabric. This story is about recreating an atmosphere in a Texas home. I strongly believe that traveling does have good side effect on us but does it begin?
A couple who loves visiting a southern state went on occasions dining in a unique place. So, they choose to eat in a great French restaurant on Bourbon Street, in New Orleans called Galatoire's. This place was founded in 1905 by Jean Galatoire and, the French chef brought traditional family cuisine from the South West of France to Louisiana.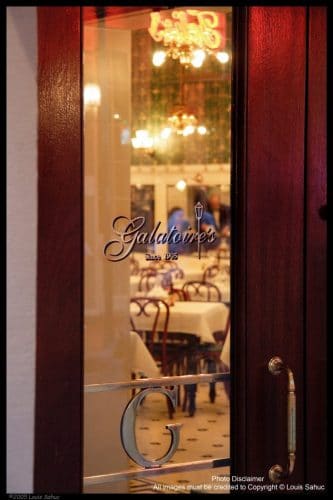 In fact if you ever go to this Southern City, why don't you try that nice Bistro for brunch or even a special evening. Before pushing the door to the restaurant, it is best is to reserve a table. Not to mention the menu is colorful and served in a friendly ambiance.
Back to my story. At this time, the couple was building a new home in Austin, Texas. When it was time to design the interior of the dining room, they were inspired by a place visited I the past. It was the restaurant in Louisiana.

The client made another trip and took pictures of the main room. She gave them to the Interior designer Eve. Now, Eve had a theme for the future dining room decor. They both worked on the idea of a plantation style and adapted it to the client's home.
Damask fabric for the dining room walls
A bright room with tall windows to the floor framed by deep moldings and four sets of wood plantation shutters. Each corners have sets of mirrors, beveled glass with antique patina. Below the mirrors, a chair rail molding runs along the 3 walls and wood panels fill up the space to the floor.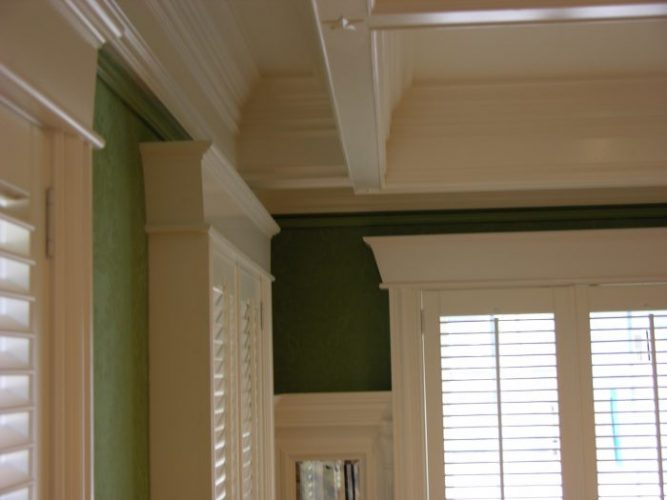 Then to add the Southern charm of a Texas home, the ceiling has the Lone Star at each intersection of the wood box beam.
The upholstered walls have a fabric from Pierre Deux. It is a beautiful green damask with Louis XVI motifs. In detail, the pattern is a basket of flowers and ribbons running diagonally.
Furthermore a picture rail is placed half inch below the ceiling for hanging future artwork. A large cord or welt in fabric complementing the upholstered walls is placed in that gap. See the image on the left.
Type of wall finish
One of the requirement was to use natural products for the walls. The second was to have a clean and fresh finish. So we did just that.
The walls were upholstered with a Clean edge system. This method of installation gives a simple and elegant finish around of the wood moldings.
This image shows the detail of the fabric stretched along a baseboard. The fabric is a light printed cotton.
In case you would like to learn more on Clean Edge Wall , we have a video that answers most of the question on this subject.
At this point, it is important to realize that the room has no decorative trimmings by the edge of the frames. The fact is No staples means straight finish.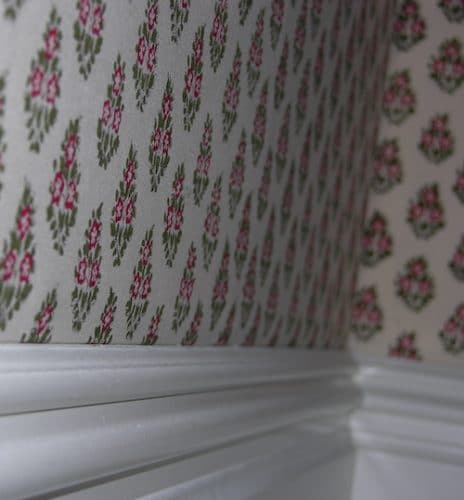 The room furnished has now the lights in place, scones, chandelier. The pictures are hang on a thin wire from the picture rail. Furniture and accessories are in place.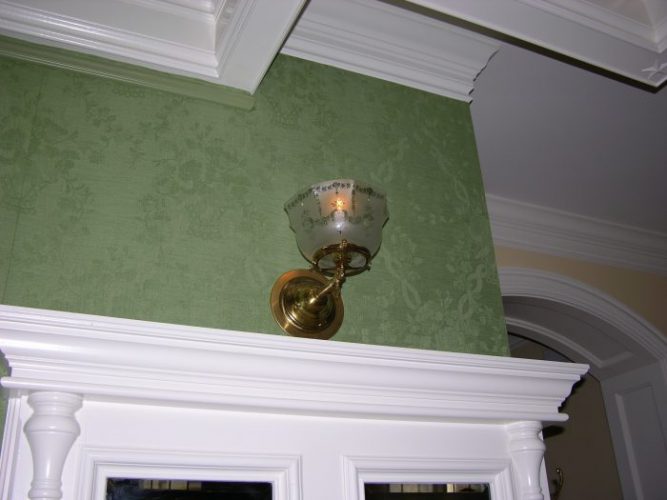 Advise for your fabric walls at home
Inspiration comes from many things that we see around us or from reading too. Traveling is a very good examples because we visit places that make us feel great most of times. But this is my own experience, keeping our eyes open and be aware of our surroundings. I am happy to look at textures and colors on most of surface it includes fabric of course. Take pictures of what makes you feel happy including the walls. Keep them like in Pinterest. It is a place where you will see a wide range of fabric upholstered walls.
To conclude, when it come to see if you will like a fabric, I can give you one advise. Don't take small sample home. Buy one yard of each fabric you have selected. Hang them on your walls. Visit your room by day and by night. That is the only way to select the right color. Find yourself a good wall upholster for your Texas home!