UPHOLSTERED WALLS
Green upholstered walls is a story shared today with a friends on the web.
A few years ago, a couple was having a new home build in Austin, Texas. When it was time for creating the interior in the dining room, the inspiration came from a dining place in Louisiana.
When the future clients who loves visiting that state went out to dine in a unique place. So, they eat in a great French restaurant on Bourbon Street, in New Orleans called Galatoire's. Founded in 1905 by Jean Galatoire, the French chef brought traditional family cuisine from the South West of France to Louisiana.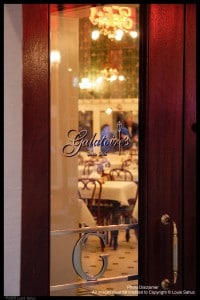 In fact if you ever go to this Southern City, why don't you try that nice Bistro for special evening or brunch. But it's best is to reserve a table. Not to mention the menu is good and colorful served in a friendly ambiance. The client inspired by the decor in the main room decides to take pictures and gave them to her Interior designer Eve. Now, Eve has a theme for the future dining room decor.
The result is the following; A bright room with tall windows to the floor framed by deep moldings and two sets of wood plantation shutters.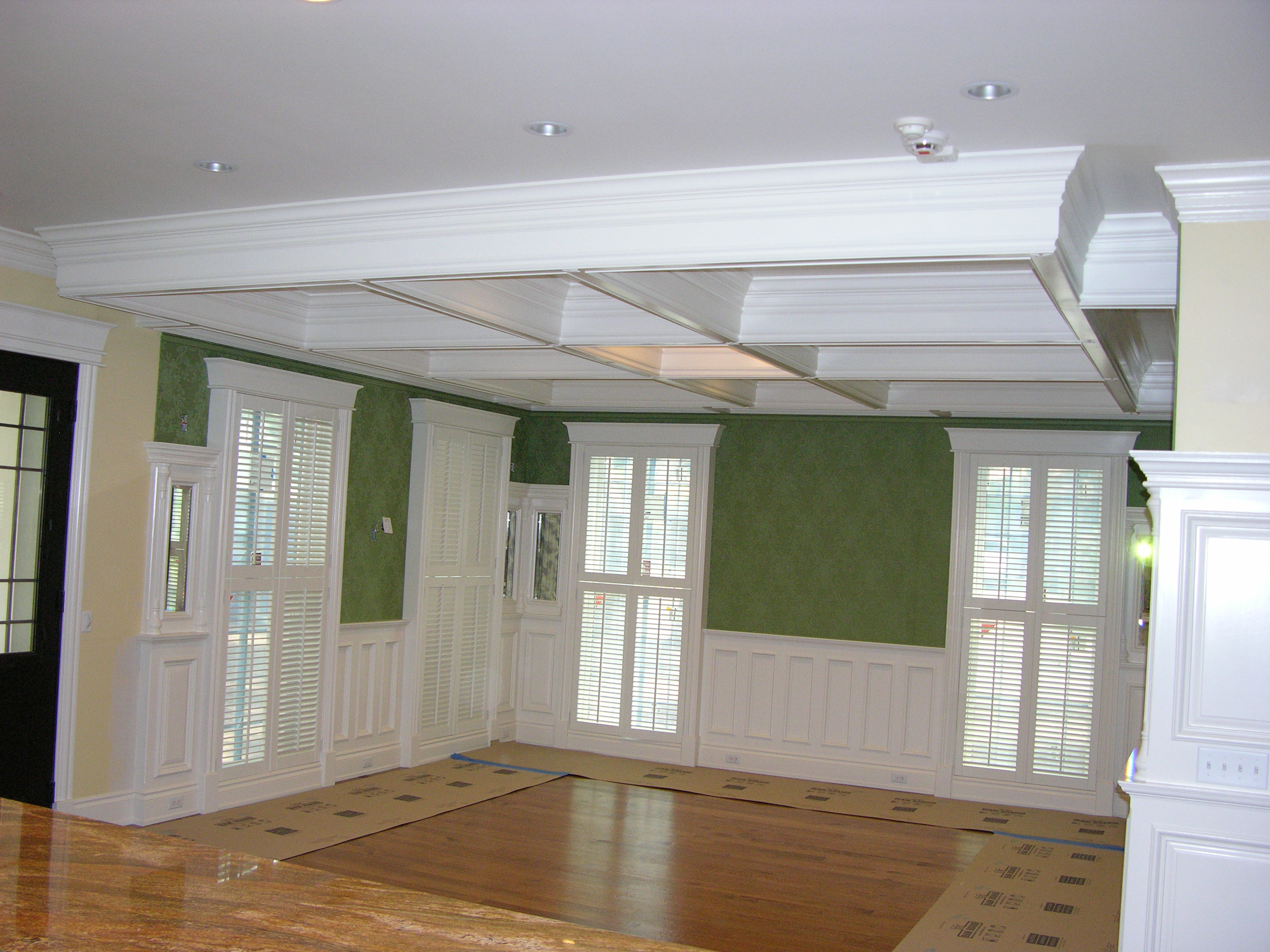 Each corners have sets of mirrors, beveled glass with antique patina. Below the mirrors, a chair rail molding runs along the 3 walls and wood panels fill up the space to the floor.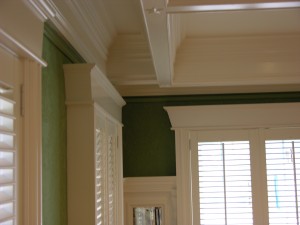 Then to add the Southern charm, the room has wood box beam ceiling with a little detail of the Lone Star.
Close look at the fabric walls
Furthermore a picture rail is placed half inch below the ceiling for hanging future artwork, A large cord or welt in fabric complementing the upholstered walls is placed in that gap. See below.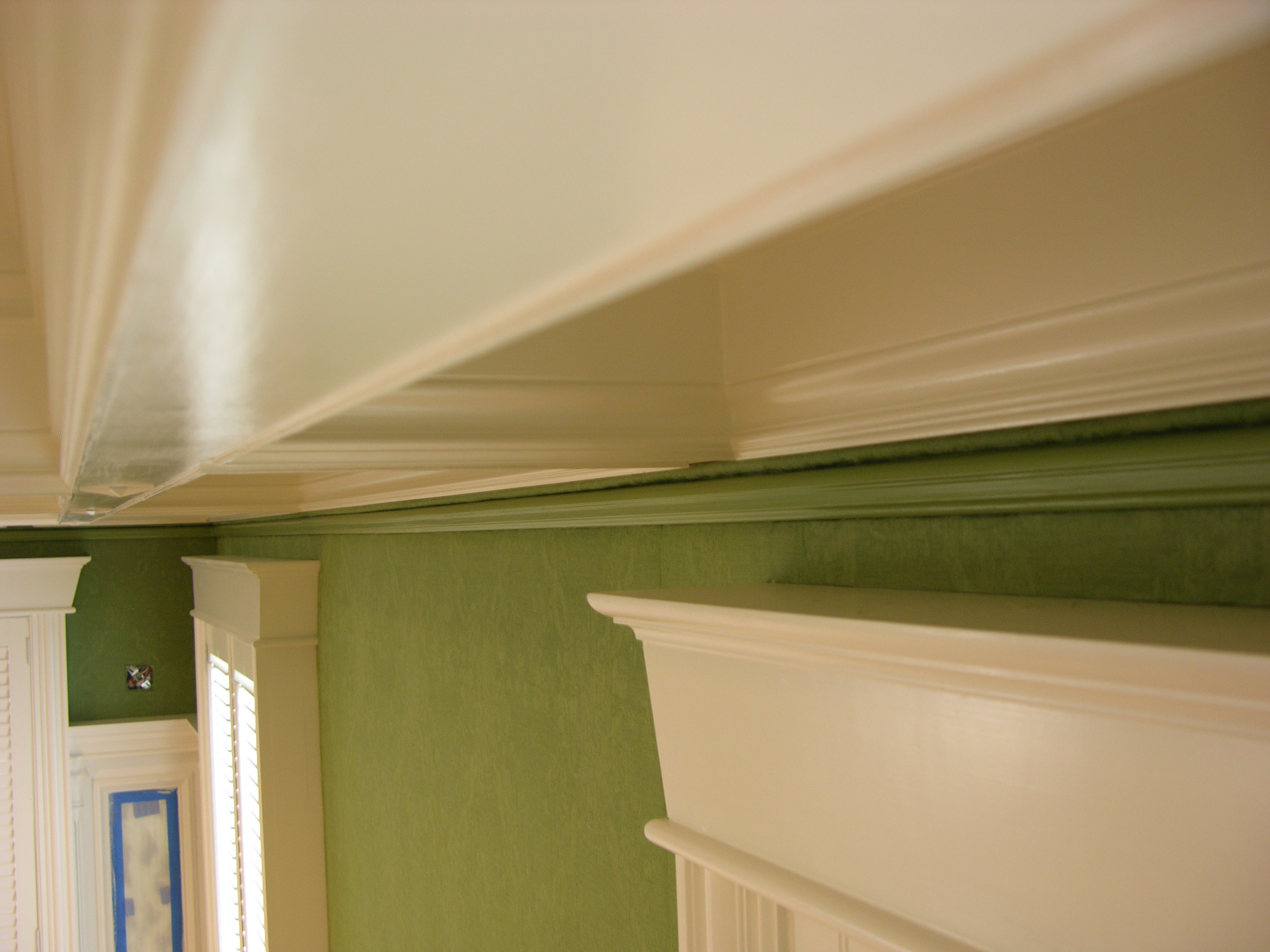 The upholstered walls have a fabric from Pierre Deux. It is a beautiful green damask with Louis XVI motifs. In detail, the pattern is a basket of flowers and ribbons running diagonally.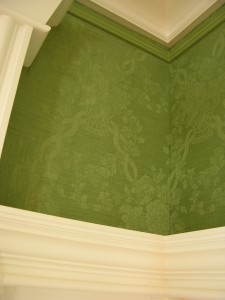 As this point, it is important to realize that the room has no decorative trimmings. The client specifically wished for a clean and fresh finish. So, we did just that. Clean edge system makes possible this type of finish around of the wood moldings.
 I will have pictures of the room furnished soon with the lighting in place, scones, chandelier, furniture and accessories.
To conclude, I am always pleased when walls have texture and colors to them. Life is colorful, dare the difference. It is a nice change from safe tons of beige. If I can give you one advise. Don't take small sample home. Buy one yard of each fabric you like. Hang them on your walls. Visit your room by day and by night. That is the only way to select the right color.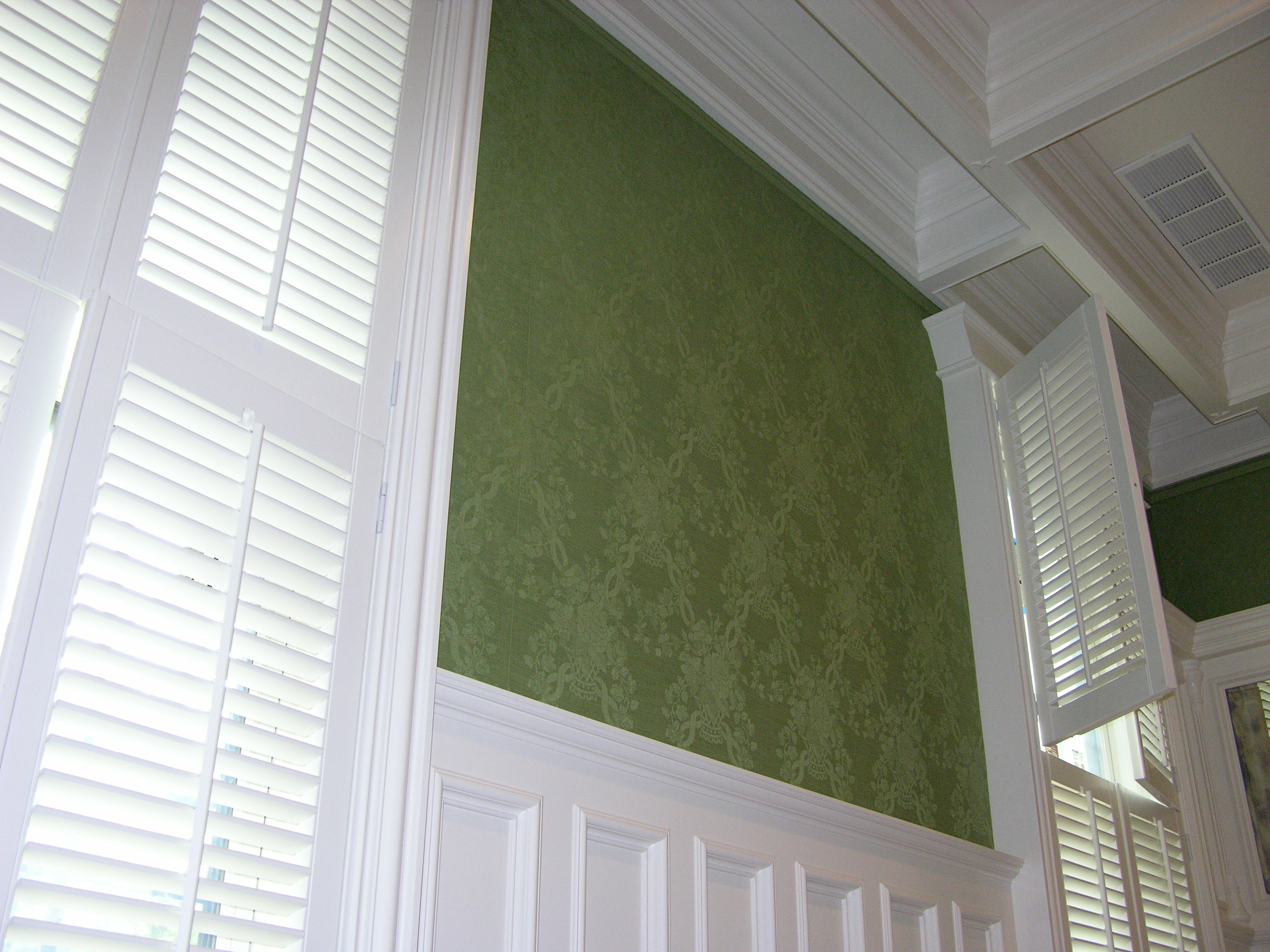 As promised I am adding some pictures of the room with furniture installed
Including all the fixtures.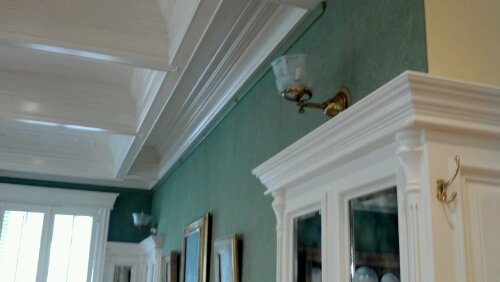 It is now a beautiful warm dining room!