Fabric wall panels in a home
Fabric wall panels is a simple way for adding color and texture to a flat surface. I am about to show you how we upholster panels without stapling the fabric. This solution presented today has several advantages. It is a superior finish compare to wrapping the fabric around a frame. The work is done by facing the panel at all time.
To begin, fabric wall panels have a very clean finish with edges free from welts, or braids. In fact, the fabric stretches on a slim track and can be easily change in the future. But, before I carry on, you may decide to add a cord around the perimeter once the installation is complete. Then a soft trimming is added. It's up to you.
Fabric framed by wood
In fact, a nice way to bring additional material and warmth to a space is to create wood framing.
The fabric is install within the wooden frame or section that you have on a wall. Most of time these frames fit directly on the sheet rock or even wood boards. Common spaces where we have seen upholstered wall panels are in an office, a home theater, a hallway or in a bedroom. The wooden frame is of various species of wood and an average 3 inches wide.
Ask for our home theater services.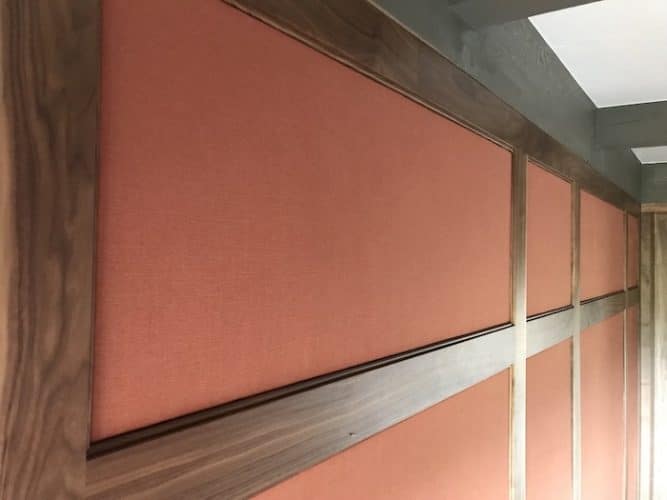 The layout of each section is define by the heights and width of a wall. Also by the openings in a room. Sometimes the panels are only the upper or lower section of a wall.
One important thing to remember is to keep the width of a panel narrower than the width of the fabric. Unless the textile selected is a simple weave that works both ways. This means the fabric stretches horizontally or railroad. It is best to ask a professional to confirm that it is possible to do so.
Requirements for upholstered Panels?
A standard installation has a track system around the perimeter of each frame or molding, a padding and a fabric.
Our company recommends to keep the base of a molding at least ⅜" in depth. The reason for this request is simple. All 3 elements, tracks, padding and fabric take ¼ inch in thickness.
However, we can increase the thickness and adapt the finish wall to the desire size to fit a molding. Again, tell us about your molding depth in advance to avoid any surprises.
For example, a room like an office has special requirements. If the sound bounces too much on the walls, it is not ideal!
The solution is adding acoustical boards behind the fabric to absorb the noise. Most of time a 1″thickness is sufficient.
In case of home theater, a more serious approach is used for this types of rooms. Acoustical materials such as sound diffusors are place in the walls, speakers included. It is usually a builder and other specialists that takes care of these.

Trend spaces with stretched panels
Since I am adding all these photos, I realize that socializing spaces such as music room for private concert, or a TV room with an area for snacks and a bar have wood frames.
Another room with upholstered panels is a game room and entertainment space like a dining room too. You will see the lather at the end.
First in this series of photos is an entertainment room with tall ceiling. At one end there is a bar and an eating area. The center panel is taller then the top and base.
A home in the Colorado mountains designed by BK Interiors of California.
The blue room with wall paneling in fabric has wider framing and wood columns for lights. It is a home theater in South Texas.

The following image shows the layer of acoustical boards in yellow. The fabric stretches over them. It is a very large music room. Ceiling and walls have both sound abatement boards.
Then, next is a light grey fabric with painted wood frames. This room has seating area at different levels. The same fabric is on walls, soffit and ceiling.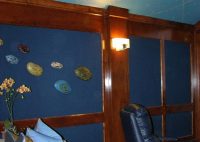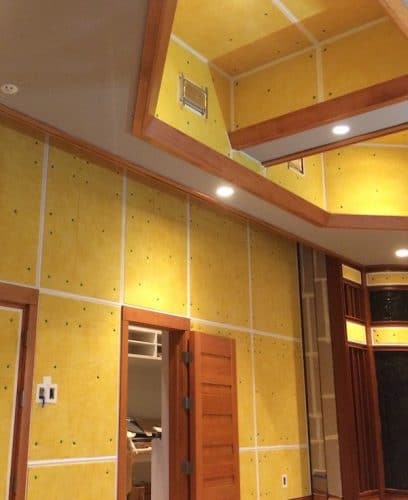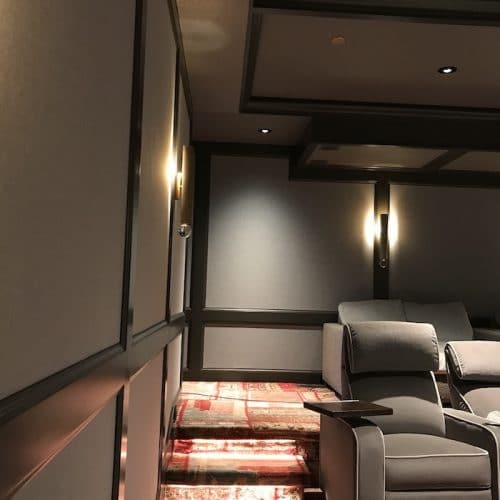 Other room with fabric paneling
Below is a dining room completely upholstered with fabric wall panels. The two opposite walls are divided in 5 equal panels size. For the wall with the windows fabric wall panels are narrower. The fabric is a light linen print in yellow bringing a little sunshine in the room.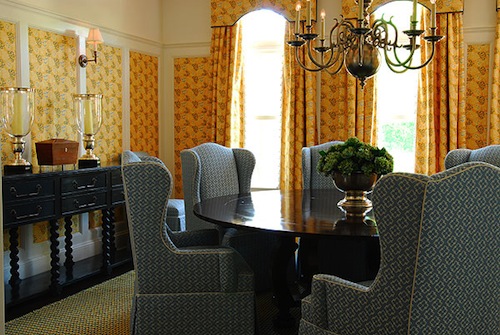 What if the future upholstered panels have a curve shapes? Would it be possible for us to install our tracks? Yes, it would. In fact, the track is so flexible that we can do radius and follow the movement of the frame.
To summarize, the track system use by VETHOMAN offers design flexibility and precision fit in your project.
Try to bring us as early as possible into your plans. It may save you a lot of hassle and frustration. There is always a solution!
Meanwhile if you are ready with your fabric wall panels, or need help contact us.