Adding upholstery fabric to walls at home
Choose a space in your house and add textured fabric to your walls in one of the room. By doing this, you will add more interest and elegance to the entire home. In fact, there is only so much wallpaper of faux finish you can have in an interior. Therefore using fabric on walls gives a sense of singularity which a good idea.
Now you have two choices. Select a fabric with a pattern and colors or keep it simple with only one color. Plain fabric works especially when you are planning on having a busy room with lots of colors on furniture or colorful artwork. My answer is yes plain fabric is fine as long as the fabric has some texture to it.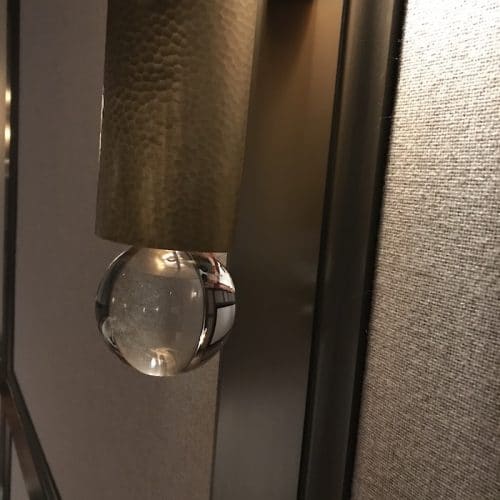 In case you decide to go for a solid color, I believe the cloth should be with a visible texture. Something needs to catch your eyes. Once the fabric is stretched, it needs to feel like an upholstered piece. Otherwise, you may hand up disappointed with the result. Furthermore you will loose completely the fabric effect including your investment too.
Depending upon the pattern, this comment is valid for upholstery fabric with a design.

Let's look at some facts.

Considering that an average room counts around 40 to 50 yards of fabric, then add labor cost for installing the fabric. So stop and think about your selection, choose wisely, take your time.
The price of a cloths varies depending on the brand name, the nature of the material use from cotton, linen, silk. If the upholstery fabric has blend fibers, and finally the weaving technique. For any question regarding using 100% silk fabric please do refer to a previous article title silk on walls.
A tip for you would be to get a large sample and pin it to the wall until you are sure.
I have made a few selection of fabrics. Most of them are in a solid color.
Below are some interesting variety of textured upholstery fabric. Some are plain textiles and other have a pattern too.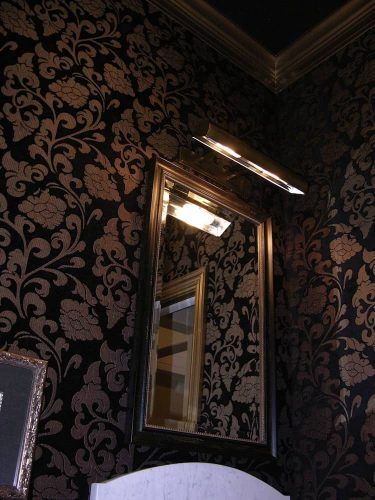 Velvets are thicker but have a softer surface making a mat and shinny effect. This powder room with tall ceiling has a dramatic gold and black theme. The black background has a short pile.
The light grey color brighten the small corridor. Walls of this library have a deep blue color fabric.
Textured fabric walls in modern interiors
CLEAN AND SIMPLE

In a contemporary interior, we installed a grey fabric in a dining room. This fabric is a linen with glazed finish. As a result, the shinny canvas adds further interest to the fabric. Something is now happening and, the light bounces on the walls.
Another material which picks up well the light is a taffeta. In fact it is a rather thin fabric. No special texture effect, but it is the threads that make this fabric shine. The fabric is woven with two different color thread. The shade of color changes depending upon where you stand in a room. A taffeta is at its best in a medium or dark shade.
Small tip for you. Also, look how the fabric reacts to the light in your room. Turn the light on and off.

Next two images are walls in a cotton fabric with fun pattern. It is the weave that makes it stand out. The fabric is a damask weave making a large marble effect and, giving depth to the fabric. The second installation is a single wall, and the colored circles shapes add texture and depth too. Other damask fabrics are shown in the portfolio.
Below these photos, is a deep grey upholstery fabric on the left side. It seams the fabric is stone washed like jeans. The cotton has the soft gentle touch. Brushing the fabric brings a darker shade a grey.
The last one is a thick weave linen like a canvas.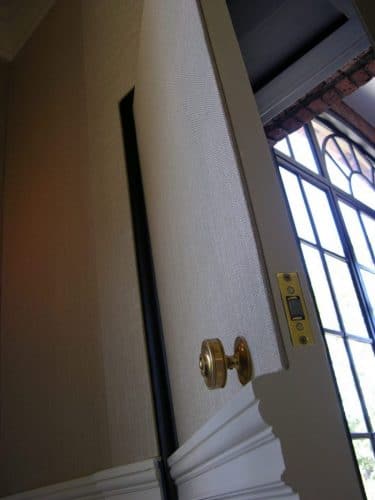 Selecting pale colors for walls
LIGHT COLOR UPHOLSTERY FABRIC
Next example is also a light grey but a doupion silk on this bedroom wall. I would recommend a much deeper color as the texture is only visible when close to the fabric. So you loose the doupioni effect (horizontal embossed lines) when standing in the middle of the room.
Now, regarding thin silk fabric, it may require a knit backing. This is one of the very few fabric that needs backing. In doubt, ask a professional if the fabric you have selected is suitable for this purpose.
Will it work on the walls? Does it need a backing?
More information on the subject of silk fabric.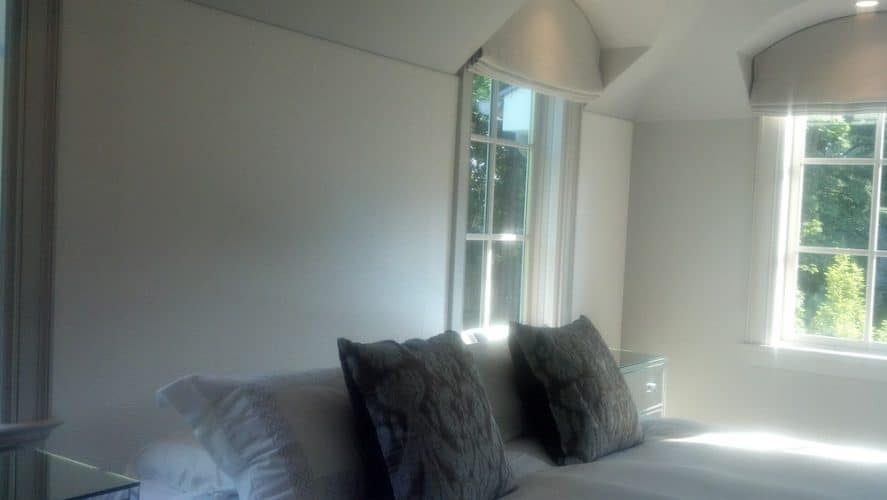 THE PROCESS OF WALL UPHOLSTERY
A note about wall upholstery installed in our homes.

I would like to clarify the following because there is a misinformation on the web. And some bloggers give the wrong name.
First every single image in this entire website is fabric stretched over some type of padding. The padding is a separate layer of various thickness fitted to the wall and made from natural or synthetic fiber. The air circulate between layers. This means no gluing at all on the flat surface.
Additionally, this layer behind the fabric creates a nice cushion or padded look. Therefore, we name it wall upholstery or upholstered wall. Not fabric wallpaper as I often hear it! And it will not be the same finish.
SUEDE FINISH INSIDE WALL PANELS
The following image presented is a bedroom. The panels are upholstered in a suede fabric. Because of the nature of the textile, different shades appears depending on the direction of the short pile. Suede fabric has a look very similar to velvet fabric.
Textured fabric to walls in home theaters

Home theaters are most likely to be in plain fabric. But pattern works too in these spaces. And in majority of cases, a darker color is selected from a medium to navy, burgundy or shades of grey. In the picture below, the ceiling and walls are both upholstered in a thick weaved linen. It includes the deep crown molding.
Learn more on acoustical walls in special rooms.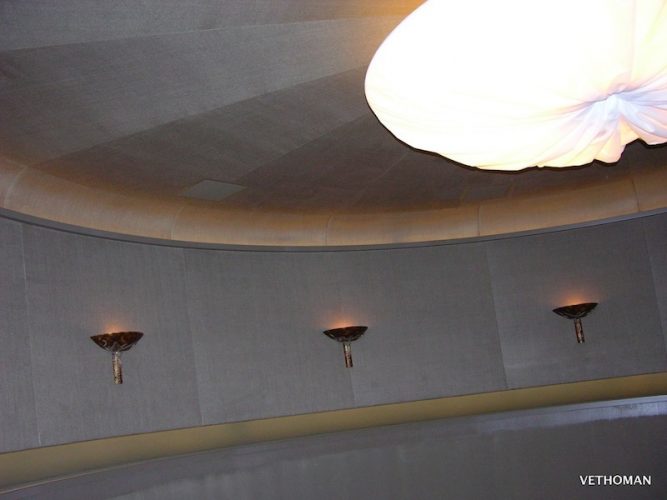 Shopping for upholstery fabric ideas
Today we reviewed only a few types of fabric, suede, velvet, doupioni, damask, taffetas and linen canvas. But I forgot another upholstery fabric that add texture, it is wool. If you are interested, see this article on tartan. I believe you will enjoy it.
Of course, there are many other kind of fabrics in stores. An excellent way to start is by looking at online platforms. Visit the website Houzz which is full of great interiors, browse through all the images to get ideas. Create an account and collect images that you do like. Remember the game is to add textured fabric to walls. Then, get some swatches of fabric. Take your time to collect samples too, and hang them on the wall. Sit for a moment in your future upholstered room and look at them day and night.
Get opinion from people around you, your circle of friends, family. After that if you still have no clue, seek for professional advise. First and foremost have fun searching.
Each home has its own character. The choice of fabric is determine by several factors.
Firstly the colors you like and, feel comfortable with, also the style of your interior, the architecture and the light in your space.
Secondly do you have a theme?
Do not forget the other elements that will be incorporate in your future space. Whether you considering wallpaper, paint, Venetian plaster or any other finish, the process is still the same.
JUST A THOUGHT#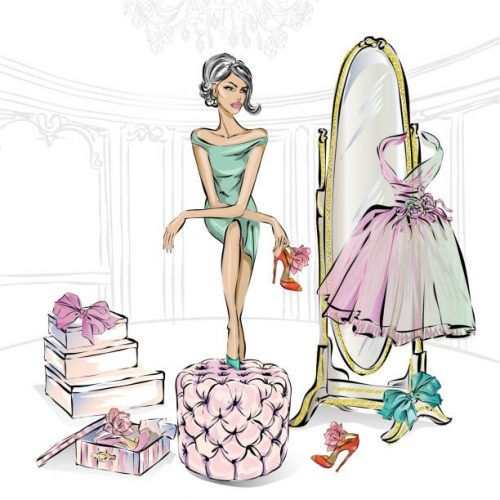 Well, this is how I see the all process. Let me make a little comparison with clothes shopping. You might think that looking for upholstery fabric is a bigger task than choosing a dress or a suit.
Pretend that you need to buy an evening dress. The dress is your main article like the fabric for your walls. Then you will not only look for a dress but for the proper accessories such as shoes, belt, handbag, and jewelry.

So every object selected will go perfectly together, same thinking for your interior. Instead you will dress the walls with upholstery fabric. All accessories represent what you add in a room like rugs, lamps, artwork and so one. If you can manage that, then you will be able to find a fabric for your home.
Keep in mind this experience should be fun and don't forget to add textured fabric to walls.
Do you have questions?
Finally, if you are you still in the dark and wish to hire a wall upholster, try us. We may not be nearby but we do travel to make your dream come true!