A wall upholstery fabric such as wool is definitively an option. The result is just so beautiful. I am going to show several examples. Each project does vary in size, color and type of room. A wool fabric on bedroom walls is a perfect idea and tartan too. Or plaid upholstery fabric. I will give you some references for tartan fabric good to use in upholstery.
In fact, all rooms upholstered in wool are a big success. And we have upholstered many corridors, master bedroom, powder room, including stairwell, hallway. The list is not yet complete.
When walls wear wool, the room feels cozy, warm and comfortable as a much wearing woolly clothes! A wall has a mat effect with texture.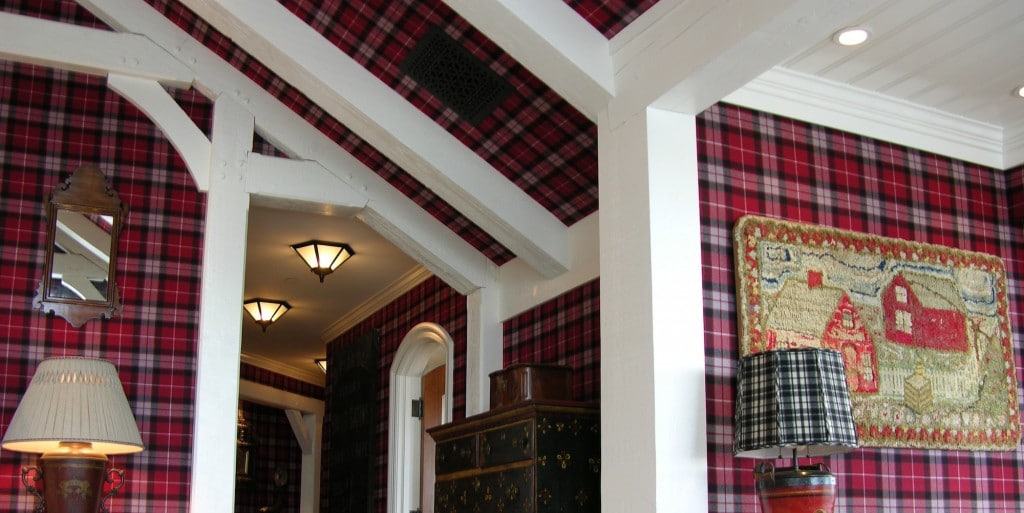 Beautiful interiors in wall upholstery fabric.
Our very first work in the United States using a tartan wool on walls was in Colorado. In the prestigious 110 acres of land, the philanthropist Temple Buell built his home just a few miles away from downtown Denver. Buell Mansion was completed in 1920 and is now on the National Register of Historic Places. Today, the large property is part of a unique community of historical homes and used for social events for the residents.
We installed tartan fabric for upholstery in the library, but it was not on walls but on the ceiling. The rectangular shape room had dark wood millwork from floor to crown molding with tall built-in bookshelves and wood panels. The furniture was also dark too, a writing desk including armchairs and wing chairs upholstered in leather. We stretched the tartan fabric in one piece across the entire ceiling. The main color was Burgundy with a narrow line of green, beige and black color. Then, a painter added on the large molding in hand written quotes from American Presidents.
Sadly the quality of this image is not the best because I scan a paper photo. Colors are not quite true. But trust me the check wool fabric was so nice once stretched on the ceiling.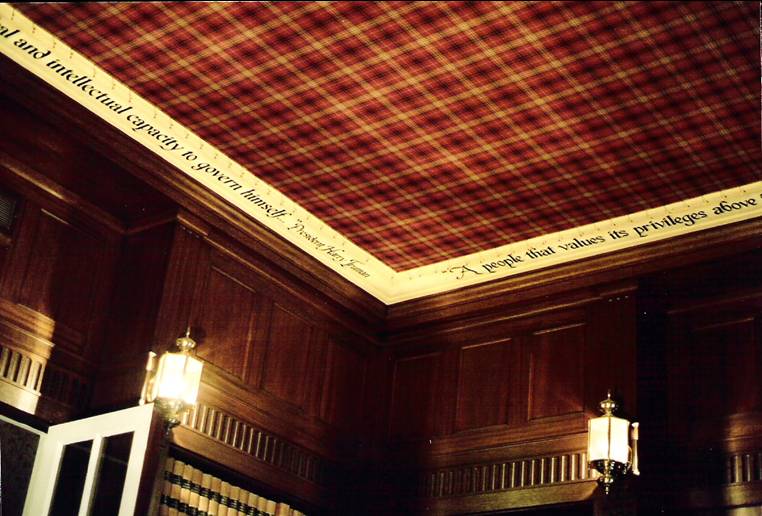 Plain colors wool for the walls
Then, for a while we worked with solid colors wool.
Below is a project installed on the East Coast and you see an entrance hall and a hallway in a very nice home. An amazing transformation from flat paint to luxurious textured walls. When stepping in the main entrance of this magnificent home, a warm and peaceful feeling embraces you, surrounded by fabric walls in fine wool in a serene color.
We stretched this particular fabric in a corridor too. The entrance has two pointed arched doorways. I let you look at the picture of this camel color cloth.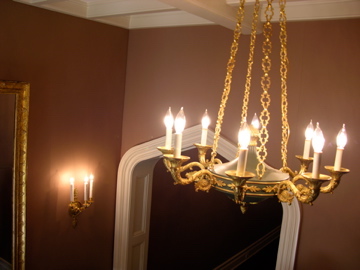 Where to get this wool fabric?
The company Rogers & Goffigon based on the East coast sales high quality home furnishing textiles. Their collection have beautiful woven fabrics made from natural fibers.
In the past, we had the opportunity to work with some of their fine wool cloth. In truth they are of good quality. The company works with great mills.
Besides fabrics, Rogers & Goffigon has a collection of leather and trimmings. And of course, you will see them in showrooms across the United States and abroad also.
The wool presented exists in a palette of several plain colors.
The fabric stretches from baseboard to ceiling. Furthermore you will notice a clean finish around all the wood frames, ceilings, arch doorways and baseboard. On these images, there is No decorative trimming like cords or braids: simplicity and elegance.
Wool fabric on bedroom walls
Several years went by without a single tartan pattern. Suddenly, we had a request to upholstered walls and ceiling in a vacation home in the mountains. There were a lot of fabrics some were plain others tartan wool on walls and ceilings. Of course, bedrooms were included. In total, we stretched around a thousand yard of various fabrics.
For those who do like patterns fabric like me, we have a few images of beautiful wool stretched on walls.
A tartan looks great in various spaces especially in bedrooms. Both ceiling and walls have fabric wall coverings.
This space is a very large master bedroom and a corridor. One wall has a wide bay windows with a view of the tall pine trees. The color skim is red, white and black, so the tartan has these 3 colors including light grey. The bedroom has a cathedral ceiling and the large solid beams are painted white. The tartan wool stretches between the beams and on the walls surface.
Some of the furniture is covered with the same fabric.
Of course, being in the mountains meant the room had a fireplace surrounded by white tiles with motifs.
In case you wish to see the corridor, it is the first wide image in the article.
More photos of the bedroom. I made them as large as possible, views from different angle.
Tips for a large room
In large room such as the bedroom we just saw, you may want to consider adding the same fabric on accessories. For instance, try on furniture and soft furnishings.
So bring a little fun and texture in your room, by using colors from the walls. In this case, plain red, black and grey for your upholstery on chairs, bedspreads, draperies, cushions and so on. This particular bedroom was published in the Veranda Magazine last December. Actually we are very please to present you the room furnished as it is not always the case. The Interior Design firm that we worked with is Anthony Baratta,LLC located in New York City. But the project was in a skiing resort.
So as you see, we do travel a great deal to make our client dreams comes true. In the meantimes, I have other bedroom walls to show you just below.
But later if you are interested in seeing other pictures of this ski lodge along with more wall upholstery. Take a house tour at a delightful Utah Mountain House full of playful patterns.
At this point, I would like to make an emphasis on our fabric installation. On ceilings or anywhere else, the fabric is not glued but stretched on the surface. You may have noticed that there are new types of wall coverings on the market. More and more fabrics have a backing. Why backing? When a fabric is glue it is not wall upholstery. This is a topic for another article.
Plain fabric in blue, green and red
Part of the project included plain wool. The next 6 pictures are also bedrooms upholstered in different colors. On one side the room, there is an alcove in a blue fabric. If you look closely at the third image, you will see the wool texture.
Green is also an option for walls. Yet another bedroom where only corners have wall upholstery fabric. Natural wood furniture, white-painted wood and green wooly walls. Since the green is like the color of the pin trees in the surrounding mountains, the dark cloths contract well with the white framing.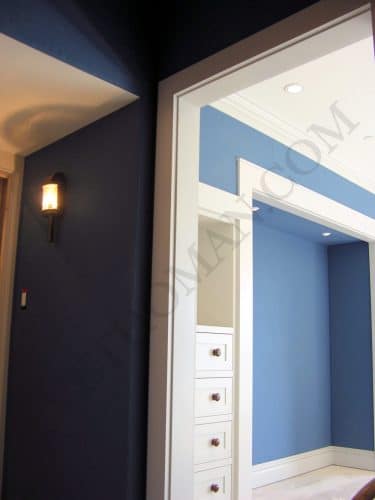 Another place to use fabric is open space like this vestibule leading to a corridor. Both spaces have wool fabric on walls. A plain red and in the next room a plaid upholstery fabric. The vestibule has odd shape walls, only 9 feet by 10 feet at the widest point.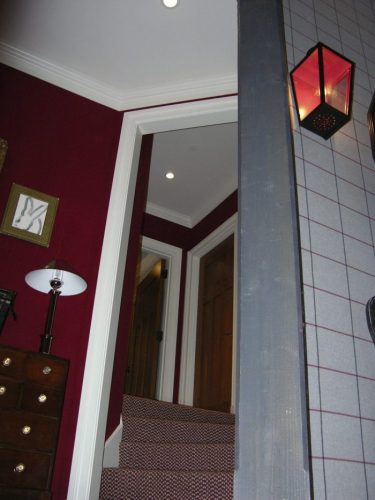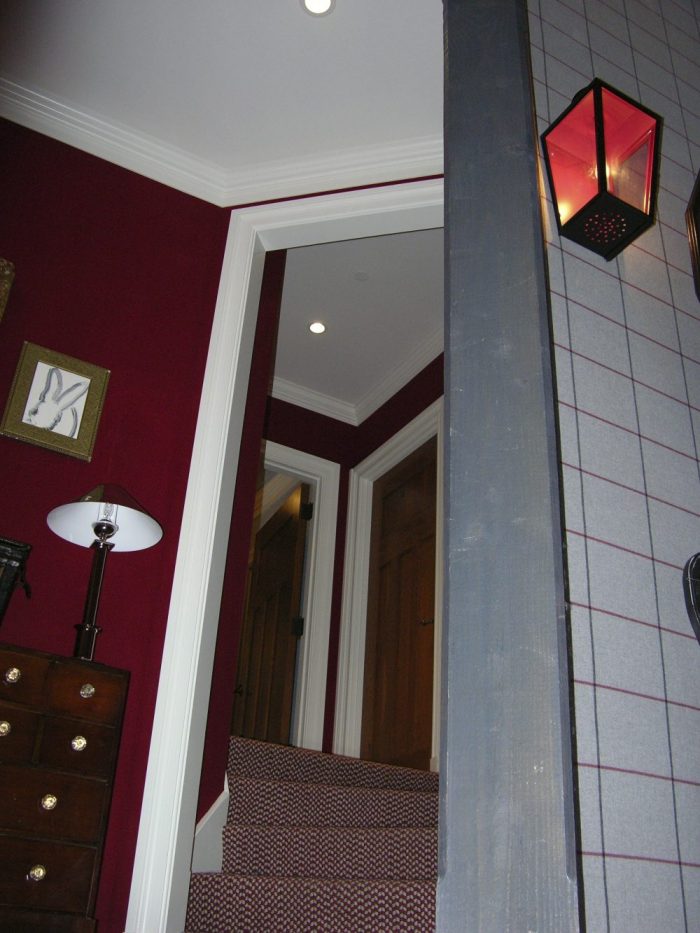 Tartan fabric for upholstery in other rooms
Tartan wool or check fabric is one of my favorite cloths but when it is apply to walls, it is just stunning. That is to say, see these really nice interiors.
Following, you will see two pictures of powder rooms upholstered in windowpane checks and a plaid upholstery fabric. Enjoy and dare the difference. Bring color into your home! I have more pictures of powder room in the portfolio.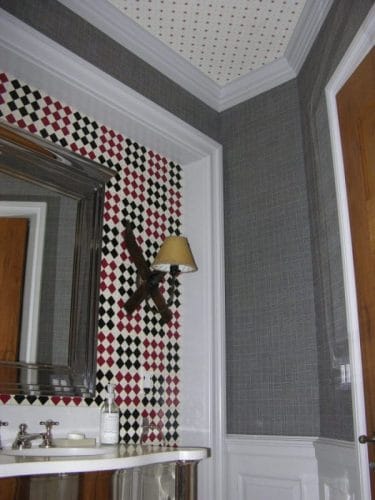 I will add tartan fabrics and I is an old story. I remember my mother sewing red tartan pants and kilt when I was barely 10 years and I was doing the same for my dolly. Much later I visited Scotland twice and bought woolen cardigan and, a shawl. Then over 25 years ago, I bought a plaid or blanket from The Isle Mill where beautiful upholstery fabric.
From the mills of Scotland to the USA
In fact, there are many fabric designers that have wool cloth. For your information, here are a few brand names: Lee Sofa, Donghia textiles, Boussac, Rubelli, Pierre Frey, Ralph Lauren.
The British Isles have such great wool too like Holland and Sherry. This company produces the highest quality woven cloth since 1836. And still supply fine wool and cashmere to the finest tailors. Their showrooms are all over the world.
In the late 20th century, Holland & Sherry Interiors started making fine textiles for homes. You should check out their natural, soft and beautiful clothes. But before we have 3 different rooms upholstered in check and tartan wool.
The following 3 images are check and plaid wool fabric from the British company that I mention earlier. It is always a pleasure to work with their fabrics.
The first photo is a white wool with a pale blue line, wall upholstery fabric in a bedroom. Next is a powder room that has a houndstooth pattern. In fact it is typical black and white Glen plaid.
The third space is uncommon because it is a ski room. The tartan wool stretches on the ceiling and the upper part of the walls.
The last 2 pictures. Another cloth from Holland and Sherry installed in an office. The plaid fabric is a classic vertical stripes in grey with a thin lines.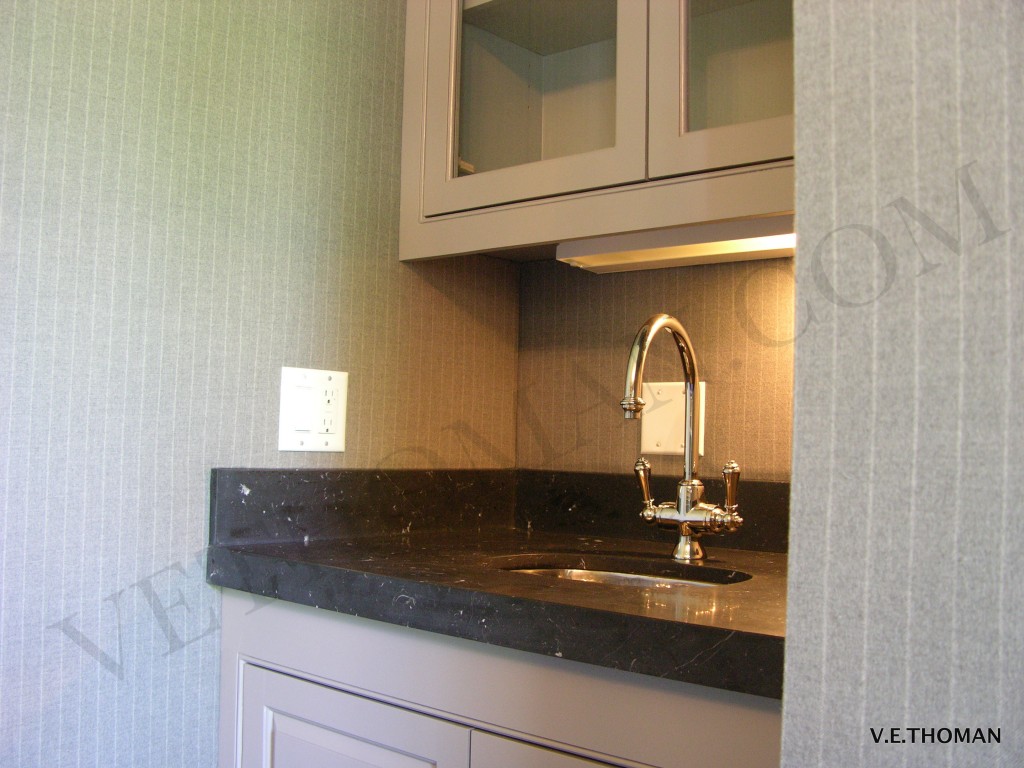 Classic interiors in red and green tartan upholstery fabric.
Since I last wrote on plaid fabric or any Scottish wool, we have upholstered more rooms in really nice cloths. These additional projects that I would like to share were installed in a northern State in 2020.
The spaces are a staircase and a hallway. Also, a library and a long corridor. So it seems that tartan walls are still in demand and very much a classic for an interior.
The green and red tartan come from an old woolen mill in Scotland. A business that started over 200 years ago and still going strong. Like the other company mentioned earlier, they weave and manufacture fine highland wear from kilts to shawls and other apparels.
The first cloth is called Stewart, the name of one of the most seen tartan. It is mainly red with lines in green, yellow and white.
In fact this name Royal Stuart or Royal Stewart is associated with the royal House of Stewart. And is also the personal tartan of Queen Elisabeth II.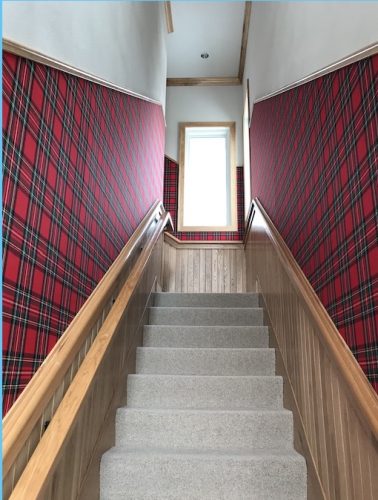 The second tartan is named Black Watch with 3 colors, green, black and blue.
This time, we are looking at a future library.
The ceiling is divided in 9 sections with large hickory beams.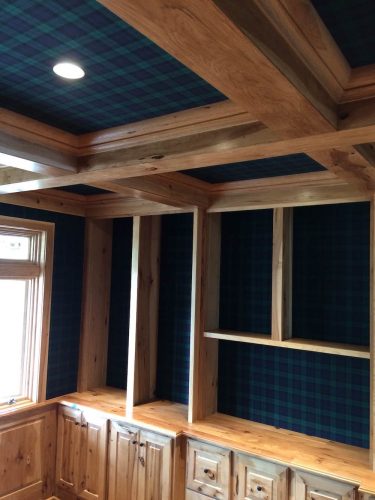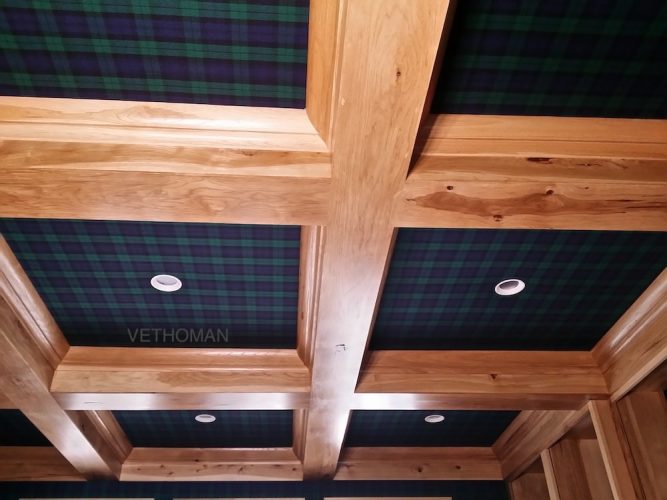 When a fabric has vertical and horizontal lines, we match the ceiling pattern with the walls. It is an important detail that makes a big different.
Is wool a good fabric for wall upholstery?
No doubt wool fabric goes on walls. Whether it it a plain color, a check with 2 shades or a tartan wool, these cloths are good for stretching on walls and ceilings. If you wish to bring texture and warmth to any room, wool is a great option.
After selecting fabrics for your project, why don't you give us the reference. We will tell you if it works well for stretching on walls. Remember to select a quality tartan fabric suitable for upholstery.
There is a list of tartan fabric from around the world but they are mostly from Scotland.
Finally, for simplicity and elegance, our company uses a Clean Edge System for all projects. Would you like to know more about this clean type of installation, see further interiors, view this YouTube video.
Now you can read about our upholstered wall services and see what to expect.
To conclude this note, all wall upholstery fabric images seen in the article have NO knit backing or paper backing. I don't think it exist for wool because I have not seen or heard of it. Anyway, wool is best stretched on walls from side to side like any other fabric. But over a layer of padding and in cotton is what you need.
Once last comment, do not get confused because many people do. A fabric paper backed and glued to a wall is a just wallpaper finish.