UPHOLSTERY FABRIC FOR OUR DELIGHT
Many things are covered with upholstery fabric. I love it !
An infinite palette of colors, patterns and textures in this world of fabric. It's fantastic! I find some fabric fascinating, and this interest has always been with me. Without a doubt, I prefer natural fiber like old cotton, wool, linen and silk too.

My interest in upholstery fabric, furniture and colors started when I was visiting my grandparents for the summers. Completely surrounded by a smell of beeswax, the decor was traditional. Draperies and furnishings were colorful which included tassels and fringes. Not to mention the doors had crystal knobs and plates.
So, this passion for sewing beautiful things with precision dates from the time spent at my grandmother's house. Not only, she respected and cherished the classic value of the past.
But also, embraced the skills and the new ideas of the present.
Somehow I keep going towards the most luxurious materials such as silk, brocade, damask, taffeta, velvet. I am often curious about the story behind a fabric.
There was a printed toile in red like this one in the bedroom where I was sleeping at my grandparents.
Above all her bedroom had wall upholstery in blue and yellow flowers. And of course around the room was gold cord for hiding the nails.
Through these years, we did a lot of sewing together like with my mother.

As a result I am curious about fabrics. What is fabric's composition? How does it feel to the touch ? I collect so many pieces. In the meantime let me tell a little on an old world of upholstery fabric.
Classic French Fabrics
Facts, Louis XI developed a national silk industry in Lyon. In 1540, Francois I, French King who was a major patron of the Arts, granted a monopoly on silk production to the same city.
Actually, I would have loved to be a mouse and see all these beautiful upholstery fabrics been woven then transformed in the workshops. See them used in many lavish interiors. Many palaces in Europe had amazing decoration. For example, in Versailles, there are rooms after rooms of wonderful fabrics on furnitures, draperies and coordinated walls.
Another place rich in history is the city of Condecourt in France. Located about 40 minutes northwest from the city of Paris, the Chateau de la Villette sits outside the village. The historical monument built in the mid 17th century was designed by the famous Francois Mansart. Of course, the gardens were created by Andre Le Notre. So much history! Among the 14 colorful and luxurious bedrooms, there is one with a blue theme.
Before, I will mention that Eight years ago, the well known Jacques Garcia renovated the interior with a decor XVIII century. All the rooms are absolutely exquisite with such a high standard of refinement everywhere. Now, let's take a peak in one of the room.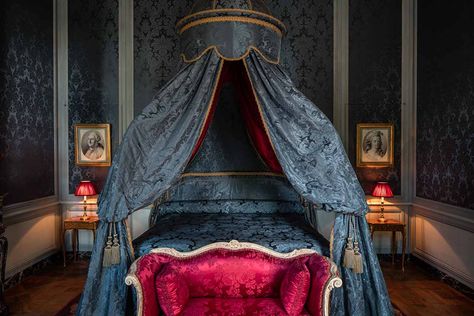 This bedroom has a silk fabric in a large damask pattern.
The furniture, the bed and the walls have matching fabrics.
If we look closely at the draperies around the bed, we notice that there are line in a vibrant silk color. The same red upholstery fabric as the little sofa at the foot of the bed.

Moreover, you can see inside the little jewel named the " Petit Versailles" because it is open for reservation. It is part of the Heritage Collection.
Fabrics in Museums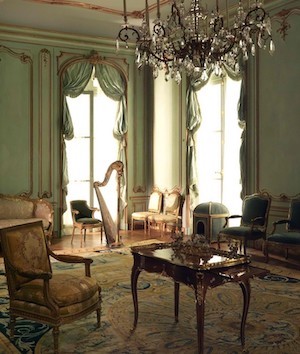 The fact is we don't have to go so far to see some great fabrics.
While visiting the Metropolitan Museum in New York, go the European decorative art section. You will see many rooms completely French from top to bottom with interior decoration from late 17 and 18 century. Furthermore, in one of the room, there is a unique dog house underneath a window. The small furniture has a blue velvet. It belongs to Marie-Antoinette furniture's inventory. She had this unique beds made for her "royal doggies'.

Stamp under the upholstered dog bed.
When I saw the dog bed at my last visit in New York, I smiled because of the following story. 
Some years ago, Eric was working for a renowned decorator in Paris, France La maison Brazet. A very similar piece of furniture came into his hands in the need of a make over…
Of course, the old frame needed re-gilding completely. The fabric was replaced by a beautiful blue velvet silk and embellished by decorative trimmings. Then, on the inside an elegant cord follow the edges of the bicolor striped taffeta in the niche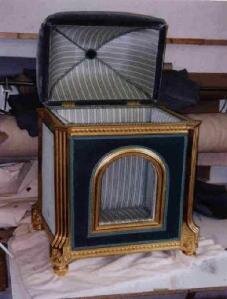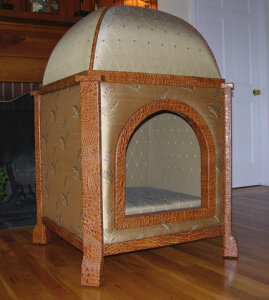 After upholstering an antique furniture mentioned just above, we decided to build one. For one thing, it's not only a dog house but a piece of furniture too as it is 44 inches tall.
The upholstery fabric covers completely the solid wood. The frame wrapped with real leather on the outside has embroidered silk on the 4 panels including the dome.
Our world of upholstery fabric today
At the present time, I am still working with fabrics covering large wall surfaces. I contribute in installing wall upholstery. It is a fascinating experience to watch and, see the transformation of a space. As well as watching yards of upholstery fabric stretched on walls. By the same token, looking at the client eyes admiring his new wall upholstery.
When you ready to add texture to your walls, give us a call.
Indeed, I think of my grandmother as I work with precious cloths. How much she value and recognize a good fabric. An ethics I have kept. And today, these principles are present at VE THOMAN, in all projects.
To conclude if you need more information, keep reading and learn about wall upholstery.