GUEST POWDER ROOM WALLS IN FABRIC
Guest powder room walls is the story of the month. Every so often, we install fabric on walls in small spaces such as powder rooms. Sometimes, the transformation is just amazing like in this case. This room went from being plain to colorful and an elegant space after the wall upholstery installation. Whatever style or theme you may choose. Fabric definitely gives character making a room unique. Also, powder rooms are easy and simple spaces to furnish. And most of times, the fabric amount is not a big deal.
A few weeks ago, we travelled in a very nice part of Dallas, Texas. The client asked if we could cover her guest powder room walls with a pretty bold upholstery fabric. We had the bad surprise to find all features were already in place; A marble vanity sink with steel pedestal fixed to the wall included the working white throne!
Recipe for a successful job and happy client
Note to homeowners, professionals designers, and builders. Please do think carefully if you are planning on having upholstered walls in a powder room. Do make sure that both of these features are not yet installed in the space. Or better try to have them removed before hand. Why?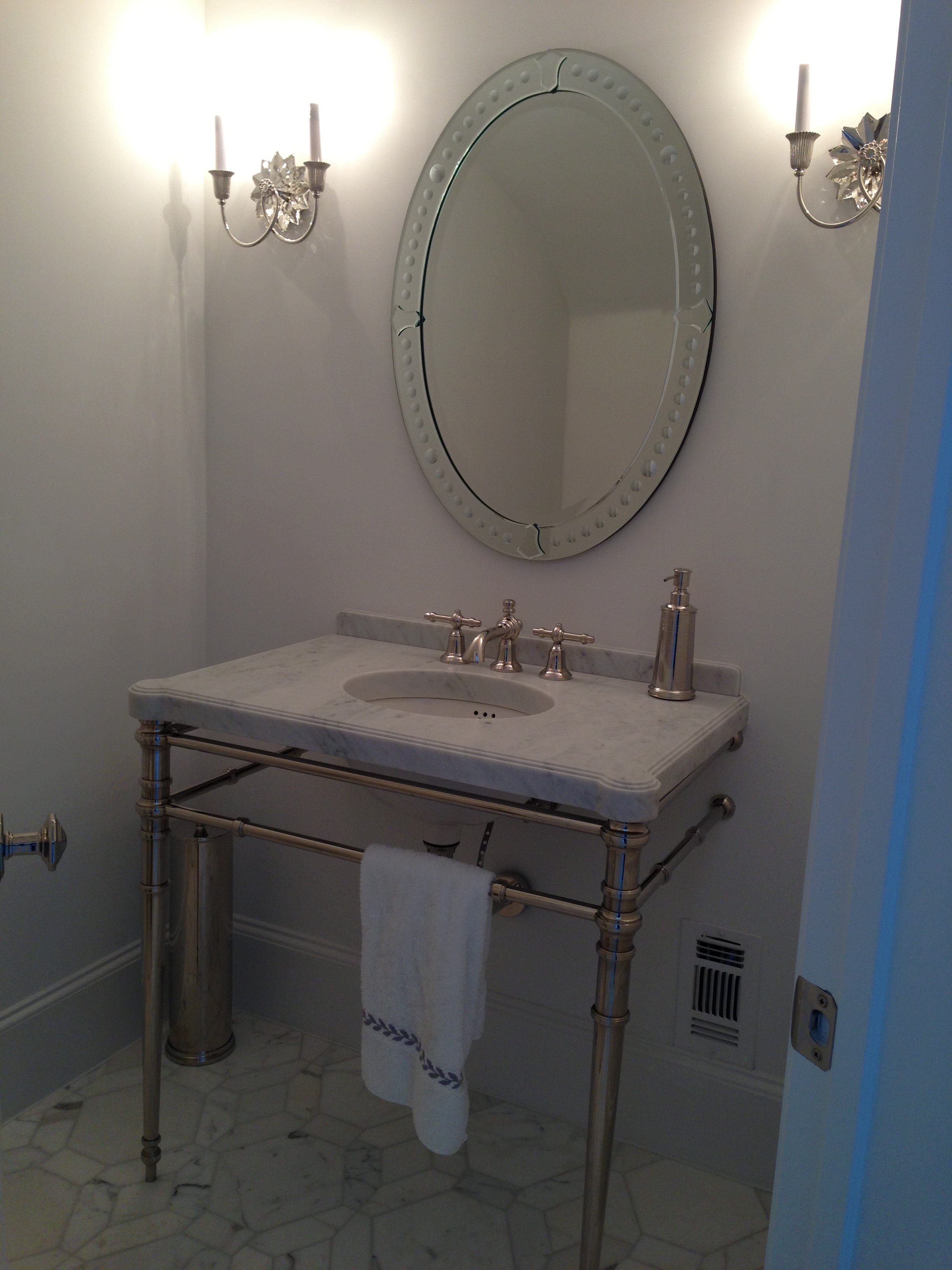 First, you will have to find a professional willing to do the work despite off the two bulky features already in place. If the upholsterer does agree to the project, then can he do a very good job? Does he have enough experience?
Powder room is usually a small space, so try to make it easy on him. He will do a better job.
Second, you will get the best result if the installer does not need to fit the fabric around rods, pipes and water connections. Like open vanity such as that one on picture.The fabric needs more cutting, matching patterns under the sink, cutting, handling the cloth with care. It is more likely to raise the installation price.
Third, the job will go smoothly. Everyone will be happy because the room will have a good finish.
Conclusion, the room should be empty otherwise it could end up a recipe for disaster.
Challenging guest powder room walls
The room had no window and located under the stairs with a sloped ceiling. This picture shows the main and biggest wall with the vanity, a mirror and two sconces. The fabric selected was an embroidered silk mix fiber with a large flower pattern repeat.
After carefully removing mirror, sconces, A/C vent, electrical outlets, and toilet paper holder. We installed our clean edge system around all the pipes, baseboard and against the ceiling. Then, we stapled the padding, applied the fabric wall by wall.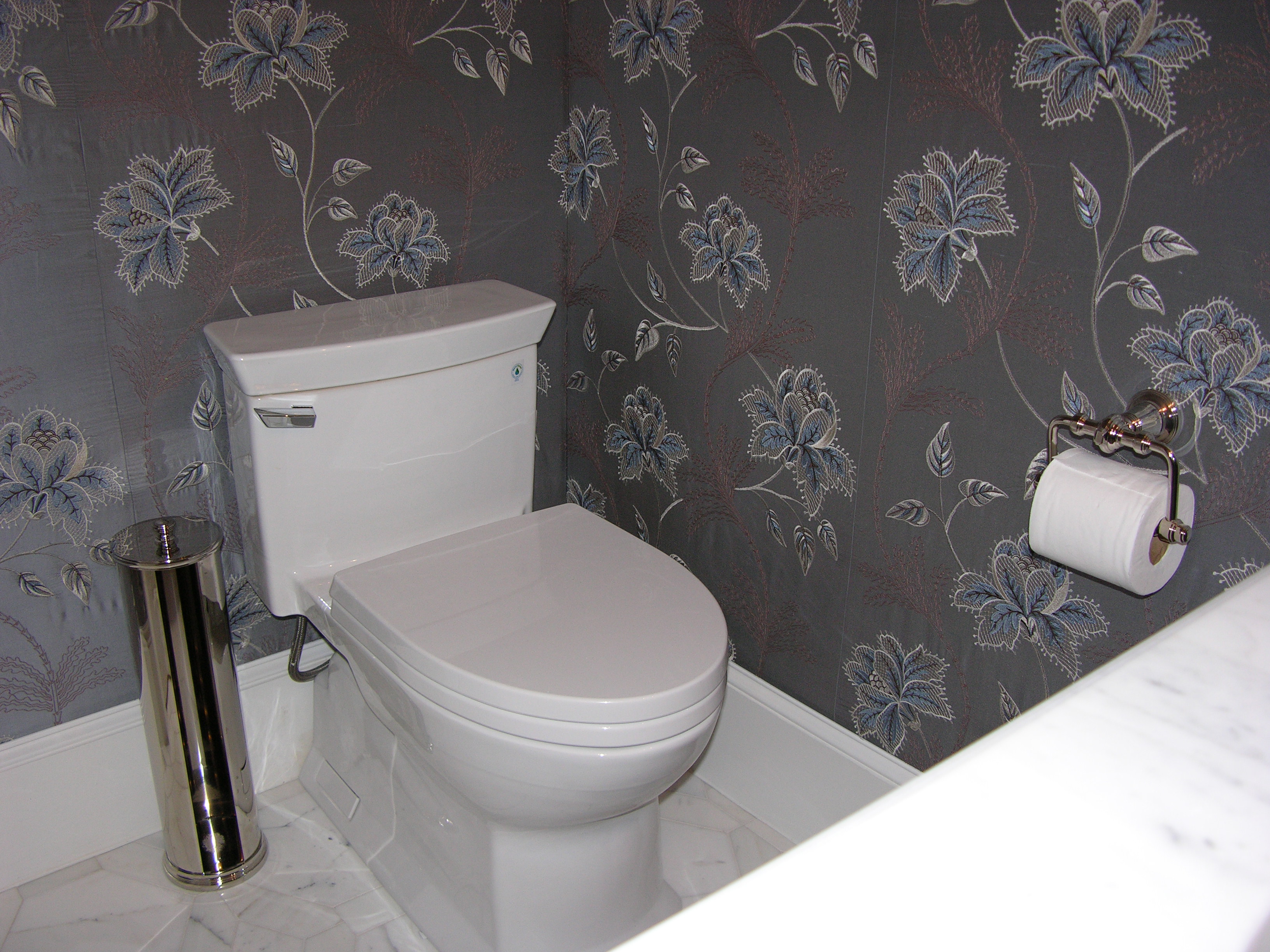 How do we make elegante guest powder room walls?
We just keep it simple. So we install clean edge wall upholstery. It is created by a clean edge track system placed around all the features and wooden moldings. There is no heaviness or fuss because no decorative braid is applied to the edges. A simple finish all around the room. Clean edge track is a good idea when using busy fabric like this one.
The ceiling has fabric too. It runs from the main wall at the highest point by the vanity. Slopes down, behind the toilet bowl to the baseboard line.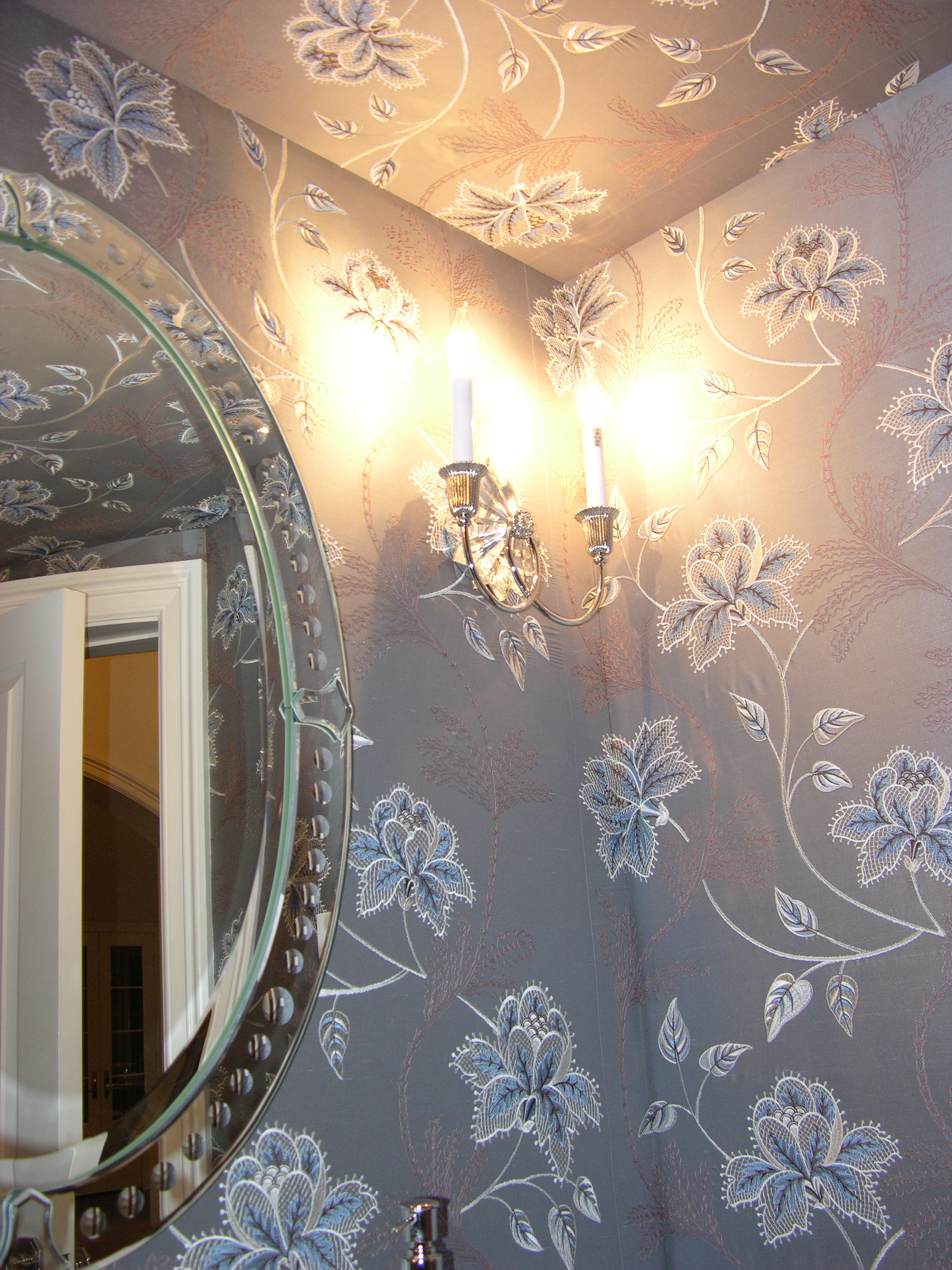 In the mirror, you see the corner of the opposite wall.
You probably do know, I am always on alert when the word silk is mentioned in wall upholstery installation. The international code for silk composition on a label is SE. So, check well the composition of the cloth.
Therefore, we recommend for best result to choose a silk blend for wall application. Embroidered pattern works too. Otherwise for 100% silk, you may have a surprise if room temperature is not controlled. The fabric loosen up and stretches consistently with change of temperature and humidity.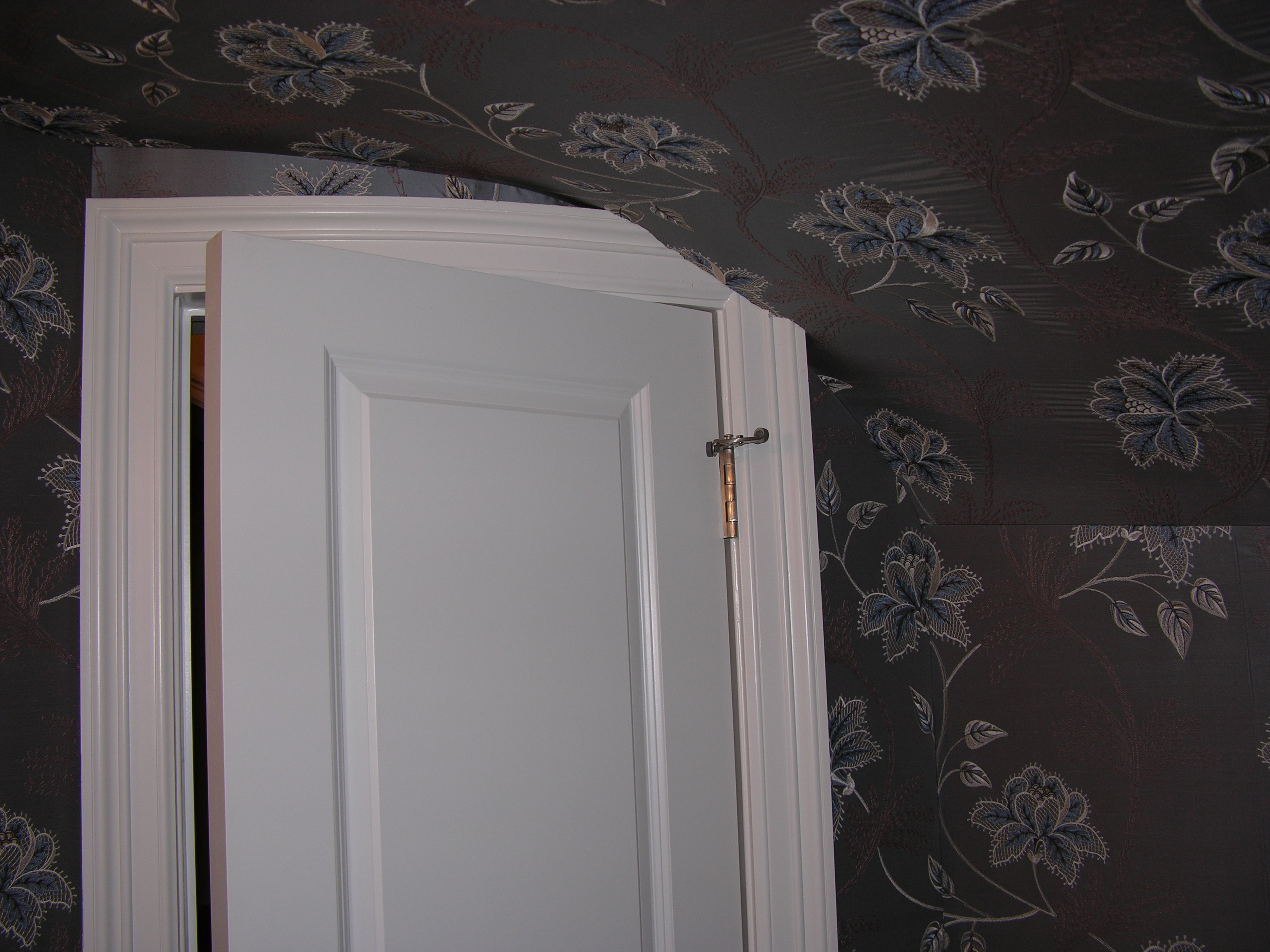 Underneath the sink, we placed a separate piece a fabric. A blue tape covers temporarily the water connection on the wall. See picture.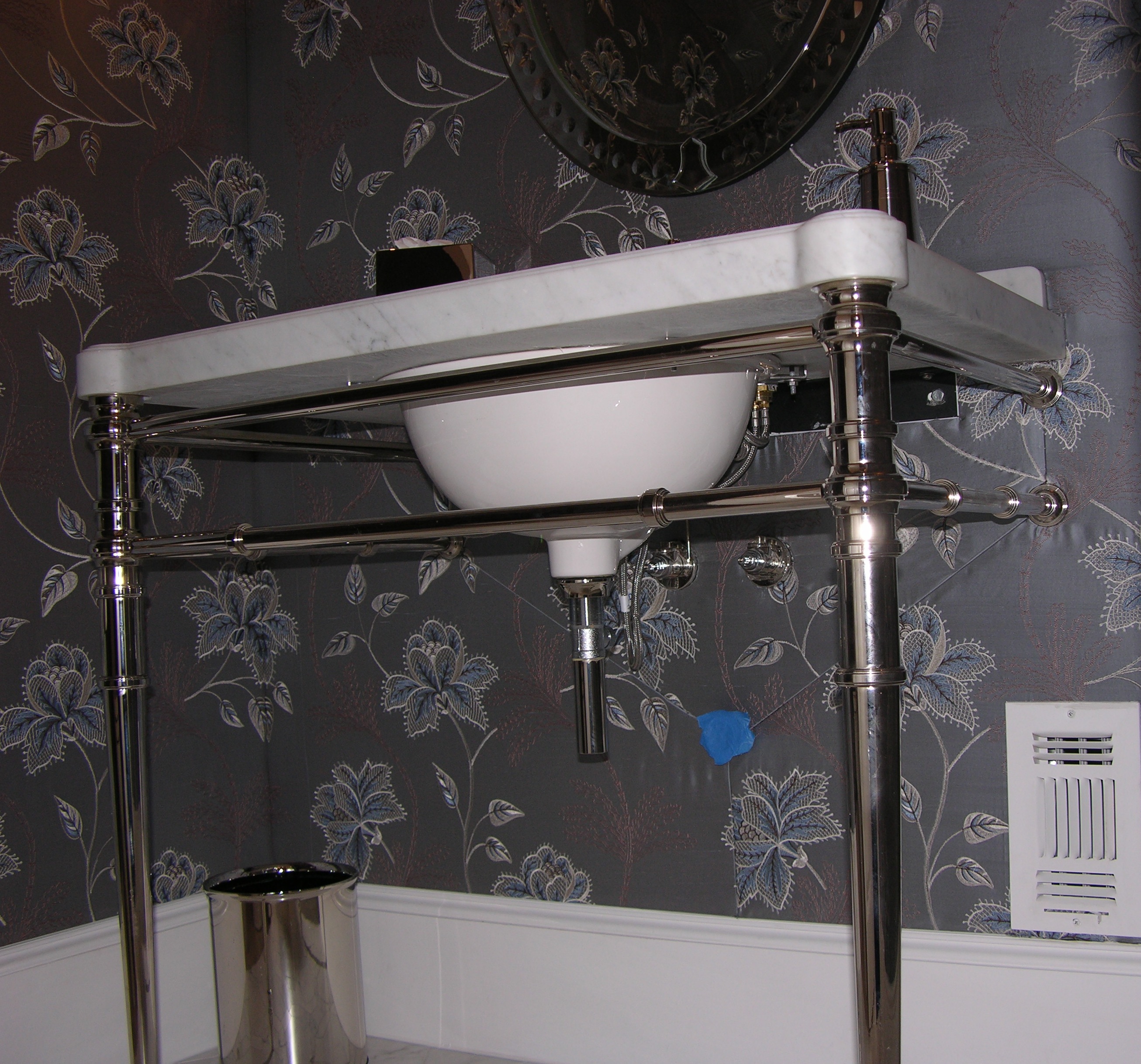 Tips for your fabric project
If you are thinking of upholstering a small room with a large or bold pattern. You now have an idea of what your guest powder room walls could look like. Now have fun shopping for your fabric. Don't rush your search. Take a small length of fabric and hang it in the room. Always ask questions and if they don't know the answers then, find someone who does.  Then, find an experience upholster.
If you don'f find anyone and you live around Austin, Texas, contact me. I will be happy to guide and advice you in this process.
You can read reviews left by our clients.
In the meantime, I suggest that you take a moment to look at some other powder room walls. It may give you further ideas as how we install a fabric. These past projects are all clean edge installation.
Speak to you soon for the PICTURE OF THE MONTH next story